Take Note: The book "Coloring Utah – Series 1, Bear Lake" is now available on Amazon. It is beautiful with historical full-color paintings of Bear Lake.  Pencil, crayon or watercolor along with the Artist.  Have fun.
Bear Lake was one of Nellie's fondest places. Maybe, like you?  From the book "Hiram Clay Manning Family History" (Page 65.) see the newspaper article (below with current watercolor) celebrating her 10 years of volunteer service at the Art Barn while painting "Trappers Cabin".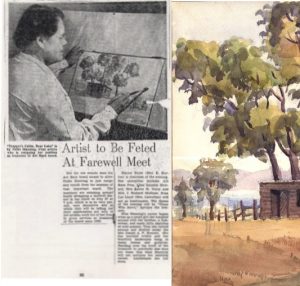 See the full paining called "Trappers Cabin" below.
Bear Lake has many different views and Nellie  captured some of these natural landscapes at unique times.  There are many landscapes, architectural structures, vessels and figures that are portrayed in her watercolors.  Below are a few of her featured Bear Lake watercolors.  There are more coming…
Trappers Cabin: Notice the V on the otherside of the lake….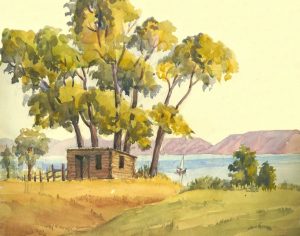 Trappers Cabin
Above is the full painting of "Trappers Cabin".  It is the complete work of the painting in the article above.
South Beach: Notice the dark sand…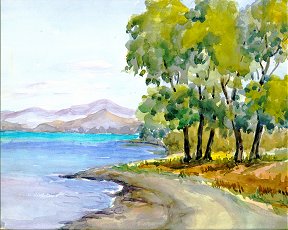 This warm painting was part of her 84 piece collection. Watch for more of her 20th century paintings.
From the North Bear Lake has a splendid view.  Especially in the 40's. See an early view of the north shore in the watercolor below.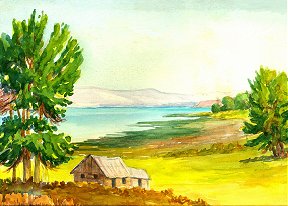 Fisherman's Haven
Does this bring back memories?  Without the cabins and houses the bank looked a lot different than it does today. Click on the image for a larger view.
Contact us for a price list of giclee prints and or the Manning Family Book.